Sale!
Wallabox Vivid Violet
$14.99
Universal cell phone holder, peel and stick on wall so phone won't fall!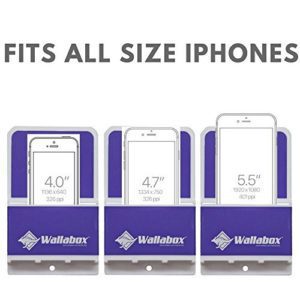 In stock
Description
Wallabox
UNIVERSAL CELL PHONE HOLDER, WALL MOUNT, 3M REMOVABLE, NON-DAMAGING STRIPS, FOAM TAPE AND SCREWS ALL INCLUDED – AVAILABLE IN 5 FUN COLORS -Midnight Black, Caribbean Blue, Vivid Violet, Steel Gray, Hot Pink – EASY PEEL AND STICK – beside bed for safe sleeping, in bathroom to keep phone from falling into toilet, in car for hands free driving! – SECURE AND CONVENIENT – cell phone holder for anywhere you need to be hands free! – SAFELY CHARGE YOUR CELL PHONE – mount beside an outlet as great charging station.
Shipping Policy
Standard USPS shipping within 2-3 days. Packages will be tracked and tracking information will be provided to each customer.
Refund Policy
Galilee Life will issue a refund if the item(s) sold are defective and/or not as described. We require a detailed explanation of your reason for a refund request and photos within 2-3 days upon delivery of the items sent to email info@galilee-life.com. We will email you with a response within 2-3 business days. Once these steps have been completed, we also require an immediate initiation of a return shipment to P.O. Box 180, Waldwick, NJ 07463,  for further physical investigation by our team. We will issue a refund if we consider the item(s) to be defective within 5-7 business days. Please email us at info@galilee-life.com for further clarification and/or concerns.
Cancellation / Return / Exchange Policy
Return policy may vary depending on the item. Please email the vendor directly or info@galilee-life.com with any questions or concerns.
Sorry no more offers available