Welcome Family! Thank you for your interest!
Your donation is so important to us and to the children of the Ssuubi Lyabato Orphanage in Uganda.
Donating to the Lyabato Orphanage in Uganda means sharing a little bit of what you have to help feed, maintain and educate these beautiful children. This donation form is created by Galilee Life as an extension of opportunity for what is already burning in our hearts for the under served parts of this world.
Ssali Yusuf is the Founder and CEO Ssuubi Lyabato Orphanage. He was born and raised in Uganda and has a heart for children. His dedication and love for these children in need, stems from his love and relationship with Christ Jesus. We can all do well when we put our hearts into something and with God all things are possible, but how much more would we be able to do in a cooperative effort to bless the children of this orphanage?
Help us make this an even bigger movement and allow this vision and heart to flourish.
Please fill out the form below so that we can know who you are and send you a HUGE thank you note! 🙂
Please visit the website and follow the instructions on the image below to donate directly to the Ssuubi Lyabato Orphanage in Uganda:
website: https://www.worldremit.com
Country: Uganda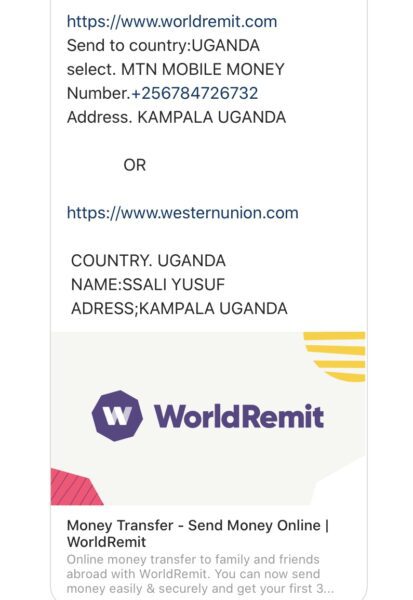 *Galilee Life does not earn any profit from sponsoring and partnering with this organization. Merely our hearts to help others drive us to form part of this incredible effort.*